"From Home To Early Intervention Centre"
8 years old Mohak lives with his mother, an elder brother and maternal grandmother. Mohak was born as a healthy boy in March 2007 in Delhi. It was after 7-8 days Mohak suffered from jaundice and was admitted in intensive care unit for 12 days. Medical practitioners did inform the family that child may face developmental related problem in the future. Mohak has spastic cerebral palsy with intellectual disability and speech impairment. He communicates usually through gestures and is unable to walk. He is dependent on his mother for his activities of daily living. Due to spasticity he has tightness in body. Mohak mother came to know about Anchal Charitable Trust through community members and visited care centre for children with disabilities to seek guidance for Mohak condition. At Anchal Mohak's mother was guided for welfare services such as disability pension. At present his mother has applied for disability pension, which would be utilized for his welfare and care. With lot of efforts and therapeutic intervention Mahak is now been child who used to stay alone with his maternal grandmother alone and remain confined with home to been a cheerful child surrounding by fellow mates at centre, there is indeed improvement in the academic and social behaviour aspect of Mohak. He loves coming to the centre and spend time with fellow mates and his teacher. In words of Mohak mother 'mohak ki progess se bahut khush ho coloring karleta hai ab, maine chahti hu kiye h ab paise bhi ginna shurukar de'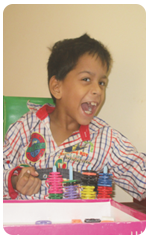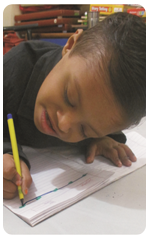 "Fazal Learns to Join Dots"
Before birth parents wish for a healthy child and their lives revolves around their child upbringing and life. The same happened with the parents of Fazal. Fazal came in his parents' lives in 2010. He is the only child of his parents and lives with them in Shastri Park, which is located in North East Delhi, India.
But before Fazal was born, his mother suffered from high fever and was also diagnosed with diabetes. Born through caesarean operation, he was kept in nursery for 9 days and suffered from delayed birth cry. Soon parents noticed inactiveness in their child and took him to a known hospital wherein Fazal was diagnosed as a child with down syndrome. Over years Fazal's mother has spent sleepless night concerning his future. Fazal mother came in contact with Anchal team during field visit and was referred to the nearby Anchal Centre. She was foremost clarified that children with down syndrome can be trained and educated to some extent which depends on cooperation received from family members and child's learning capabilities. This information not only brought huge relief but also new ray of hope for Fazal's mother. Fazal not only was enrolled for all the essential and necessary welfare schemes but also for preparatory classes. The preparatory classes conducted by the NGO prepare children like Fazal for mainstreaming in govt. and other schools.
Taking to his special educator reveals that apart from been down syndrome Fazal also reflected signs of Attention Deficit Hyperactivity Disorder because of which he faced problem in concentrating on work assigned and sit at one place. In terms of academic his writing skills was only limited to scribbling. When talking about communication part due to speech impairment Fazal is unable to communicate much but also used to stay aloof from his peers. Over months of preparatory classes there is considerable improvement in Fazal's academic and behavioural aspects. At present he is well versed with primary colors name, basic time concept and money concept. His mother was overwhelmed to see him joining dots to form words. Fazal now share good rapport with his special educator and peers and tries to talk to them. At times he is the first student to complete his work
"Sameer with his parents"
15 years old Sameer has Duchenne muscular dystrophy (DMD) which is a genetic disorder characterized by progressive muscle degeneration and weakness. Because of weakness arising due to the disorder, Sameer is dependent on his parents for his mobility and activities of daily living. With wheelchair from Anchal Charitable Trust, Sameer now can move with little assistance and access health care services with dignity and without adding physical burden on his parents who earlier used to carry him to nearby hospital on their lap.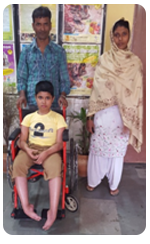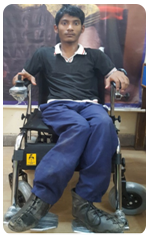 "Shahrukh with motorized wheelchair"
15 years old Shahrukh has post polio paralysis and is unable to walk properly. He uses crutches to walk but is not able to walk for long distance with them and get tired easily. With motorized wheelchair from Anchal Charitable Trust, he now can travel long distance without any hesitation.
15 years old Varsha come across as cheerful, hardworking and soft spoken girl. Varsha has locomotor disability and thus she is unable to walk without support.

It was during field visit to the community; Anchal Charitable Trust team got in touch with the concerned parents and sensitized them about different disability welfare schemes and mobility aids which could help Varsha. Varsha has now availed all the concerned disability welfare schemes including pension which is utilized to meet her educational expenses and other needs as well as she now uses KAFO ((Knee-Ankle-Foot-Orthosis) along with elbow crutches to walk. Also through Anchal's networking with concerned authority Varsha was enrolled in nearby government school and is now studying in 10th class.

In her mother words 'bahut acha lagta hai Varsha ko dekh kar, har chiz mein participate karti hai, bahut lagan hai ismein apni studies ko le kar. Koshish karne se piche nahi hatthi meri beti'. Varsha has proved as a role model for other children with disabilities. Over the years Varsha has become more determined to carve a niche for herself in the society and is much focused with it comes to her education and academic performance.