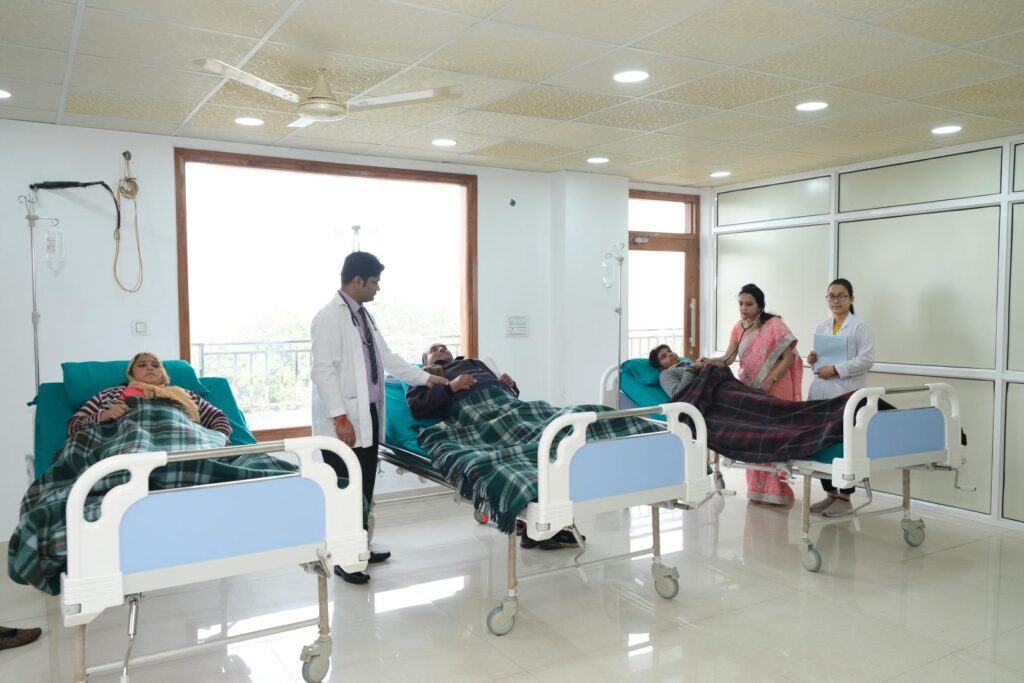 Anchal – One of the Best Charitable Hospitals in Ghaziabad
Anchal Charitable Trust is a top-notch charitable hospital in Delhi/NCRthat primarily focuses on providing health treatment facilities to the underprivileged people so that none of the individuals dies a premature death due to not getting quality treatment. We are well-committed to expanding health care services to every corner of the city at a sensible cost to let everyone get a good and improved quality of life. At Anchal Charitable Trust, we actively participate in various health awareness and children welfare programs to reach more and more people suffering from irrelevant medical facilities. Not only that, but we are continually increasing our specialists' team so that patients don't have to run here and there for the clinical tests, findings, imaging scans, and medicines. 
We Stand for the Needy Ones and Help Them to Cure Faster!
Anchal Charitable Trust is one of the well-recognised non-profit organisations. Our NGO primarily focuses on providing the best medications to the impoverished people and malnourished children. We provide cost-effective treatment at our charitable hospitals in Ghaziabad/Vaishali/Indirapuram. We also have a team of professional eye specialists who make every possible effort to restore the children and adults' eyesight at a cost-effective price. Until our top surgeons have embraced the successful sight-restoring surgeries, we, with our team of well-educated staff and specialist doctors, are on a mission of providing excellent eye surgeries. 
Our Mission is to Improve Maximum People's Vision!
Not only this, but we also provide a regular eye check-up of the patient visiting our hospitals in Vaishali. Our team of kind volunteers and surgeons are committed to setting up highly effective healthcare standards. We have proficient doctors, cutting-edge technology, and modern infrastructure, fully dedicated to giving new life to the patient visiting our hospital. We always make sure that we provide all the patients with utmost care and comfort. Our charitable trust has tie-ups with majors NGOs and charitable hospitals to offer the best medical treatment service. 
Services We Offer at Our Charitable Hospital in Indirapuram
Our hospitals in Vaishali and other branches help the patients by offering below-mentioned services:
Dental Surgeries
Our charitable hospital provides the dental surgeries to the patients, whether it is an implant, crowns, fluoride, or whitening.
Eye Surgeries
Our special doctors perform remedial eye surgery through laser reshaping of the eye's surface and help the patient improve his/her vision.
Chemotherapy
Several approaches are performed in treating cancer, and through chemotherapy, our doctors perform procedures to kill the fast-growing cells in the human body.   
Cancer Surgeries
To treat cancer patients, our surgical oncologists perform their surgery to eliminate tumours from patients' bodies.
Children Welfare
Our charitable trust helps the children and ensures to protect them and their family. Along with this, we also conduct medical check-ups for the children.
ENT Treatment
Our specialists help the patients get rid of Ear, Nose, and Throat problems through our ENT treatment. They also perform ENT surgeries for the patients at an affordable cost.
Breast Cancer Treatment
Doctors at Anchal Charitable Trust help breast cancer patients by properly diagnosing the stage and performing effective therapy accordingly.
OPD
In Outpatient Department Treatment, our doctors, by thoroughly analysing the patient's problem, decide which medical treatment to be given to the patient. 
Gynaecologist Cancer Treatment
In this treatment, gynaecologists diagnose the cause of cancer and help the patient recover from it by performing surgery, therapy, and radiation.
For any Query or Appointments Call: 9811173783 , 9911173780
Give a Contribution
Anchal Charitable Trust is the leading Ghaziabad/Vaishali/Indirapuram providing better living conditions for all the needy people. Join us on our journey by giving a little contribution.
For Appointment: 9811173783, 9911173780