Learning Support at Anchal Charitable Trust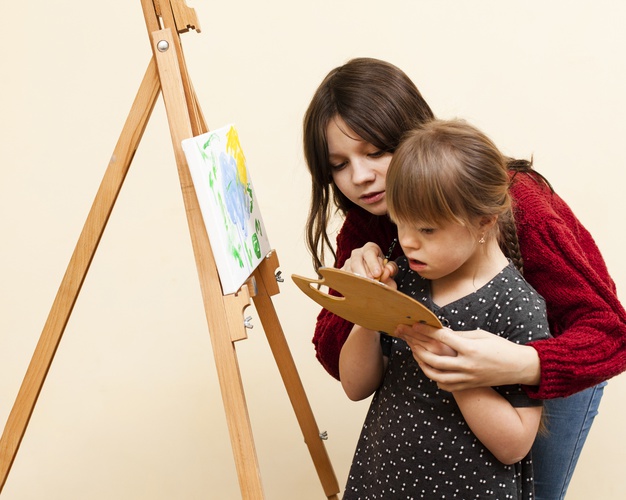 Anchal Charitable Trust was established to offer a welcoming learning atmosphere for students with mild-to-moderate learning difficulties and those who need social and behavioural support. Anchal Charitable Trust serves as a full-fledged school for disability in kids who are slow learners due to disabilities, including ADHD, ADD, dyslexia, dyscalculia, mental retardation, and others. We collaborate with the best school for disabled children Ghaziabad/Indirapuram/Vaishali. 
In-class support, therapeutic support, and assistance during exam preparation are phases of the support at schools for kids with learning disabilities. Remedial classes concentrate on reinforcing concepts, learning language skills, memory skills, mathematical concepts, research skills, science concepts, and organisational skills. At the same time, in-class counselling helps them cope with the school's curriculum requirements for disability in kids. Children are counselled, inspired, and encouraged to improve their grades regularly. We frequently have to use various methods and tactics while holding both the child's weaknesses and strengths in mind.
Our charitable trust looks after all the kids' special needs from primary to senior school, assisting them in several areas such as academics, social, emotional, and psychological development, therapy, dorm settling, and peer relations. As a result, Anchal Charitable Trust has successfully mainstreamed many children who are exceptionally well on their own, elevating the idea of special education to a new level at the school for disabled children Ghaziabad/Indirapuram/Vaishali. 
Parents or guardians play an important role in students' mental, social, and academic growth when they have learning disabilities. At every point, every attempt is made to work in near collaboration with them. Anchal Charitable Trust is a firm believer in forming a close relationship with parents to help students with disabilities reach their full potential.
The overall growth and success of the child is given careful consideration. The faculty's goal is to completely integrate each child into all levels of schooling and help them improve their self-esteem in the schools for kids with learning disabilities through extracurricular activities.
How Do We Achieve It?
Teachers' motivation and sensitisation are critical in an inclusive environment at Anchal Charitable Trust. Daily techniques, analysis and sensitisation workshops, discussions, and observation sessions are used to accomplish this.
To foster greater inclusion, "differentiation" and "differential learning" are emphasised like this:
A greater visual stimulation.
 Making nervous children sit or stand throughout the last row is an example of a seating plan.
Creating worksheets with a variety of font sizes and spacing.
Utilising various fabrics, technology, and prompting.
To also have peer support, combine ability levels.
These are among some of the small tweaks that result in massive differences.
To know more: 9811173783, 9911173780